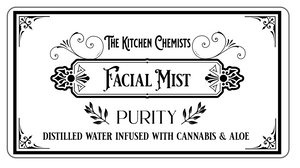 Facial Mists are a great pick me up! They give you an on the go boost that alleviates stress, and of course it is great for your skin!
The Purity Mist is a combination of distilled water, aloe, cannabis and a hint of coconut oil. Comes in a 2oz glass spray bottle.
Aloe has so many benefits, including being an anti-inflammatory and eases dry and imperfect skin.
Cannabis which is also an anti-inflammatory, and it also has a more powerful antioxidant than Vitamin C, E, or A. This antioxidant property of cannabis fights free radical damage and stimulates recovery from oxidative stress.

Applying cannabis topically induces the endocannabinoid system to regulate the various dermal processes for more radiant, moisturized skin! Cannabis protects the skin from free radical damage such as UV rays, environmental pollutants, and toxins that contribute to the visible signs of aging.
Inflammation impedes the skin's natural regenerative process. By reducing inflammation and free radical damage cannabis allows the skin to repair itself and correct signs of aging.