Don't be afraid of the C word!
Even saying the word Cannabis has long been a stigma.
While smoking or ingesting cannabis will have psycho-active effects, TOPICALS DO NOT. The cannabis does not enter your bloodstream and you will not feel any psycho-active effects using our products. The Cannabis plant has many benefits including being a natural anti-inflammatory making it a great choice for pain relief. It is also rich in vitamins and anti-oxidants making it great for your skin. Our products are full spectrum so you get the most benefit from them.
Explore our products to learn more!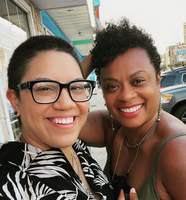 Welcome.
Hi! We are Jackie & Shannon Arnold. Jackie is on Broadway in Moulin Rouge! the Musical and Shannon owns another small business MMV Talent. We created our products from our needs to manage pain in a natural way, both our jobs are physically demanding!
We have always known the many benefits cannabis can provide. The more research we did and after sampling the products ourselves, the more we realized we could help others in pain too.
We source the highest grade materials we can find. They are all organic, all natural, cruelty free and Eco-friendly. We do everything ourselves so we know you are getting the best.
We hope we can help you choose PLANTS OVER PILLS.
Some Gossip
The Kitchen Chemists have catered to the needs of my friends in our performing arts industry with care. There products not only smell delightful,but they are effectively soothing, healing,green conscious and made with love. My fave's are the bath bombs, in shower moisturizer and salve!!

Bahiya H.
Let me start off by saying, I HATE baths. Tonight I used this amazing bath bomb and I had the most relaxing amazing bath. My skin is glowing and smooth and my muscles are relaxed! Thank you!!! Will definitely be ordering more

Seth A.
Just received my second order of Self Care Salve. I Have a rod and pins in my wrist as a result of a car accident. Self Care does a fantastic job with the almost constant ache. It smells really nice too so I can use it at work and not offend anyone. I will be ordering this again and again.

Nan S.