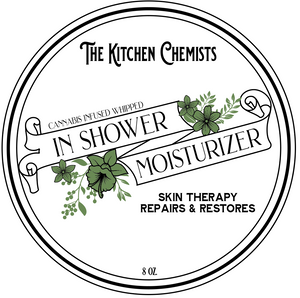 Our Milk & Honey In Shower Moisturizer will leave your skin glowing!

Shower or bath as you normally would, but while your body is still warm from your shower/bath, lather this moisturizer all over your body and let it drink it all in. Then pat dry! You're good to go, no need to moisturize after the shower!

Both Milk & Honey have anti-aging & anti-inflammatory properties. Pair that with the many benefits of hemp/cannabis including those and repairs skin cells and protects against environment.

Made with all natural, organic & Eco-friendly ingredients.
Comes in an 4oz re-uasble/recyclable glass jar.

WE ONLY SHIP IN 4OZ JARS DUE TO THE MILK BEING PERISHABLE. IT IS ONLY GOOD IN THE SHOWER FOR ABOUT 45 DAYS. To keep fresh, place in refrigerator until ready to use.
Customer Reviews
03/02/2021
Carla C.

United States
Great product but this time a little disappointed
I love this stuff however I wish I would've know that it expires in 30 days before buying two jars at a time. This batch was not as smooth or fragrant as jars past but i still like it a lot. Hoping for a smoother and more fragrant jar in the future!