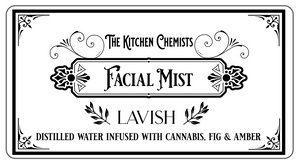 Facial Mists are a great pick me up! They give you an on the go boost that alleviates stress, and of course it is great for your skin!
The Lavish Mist is a combination of distilled water, Fig, Amber, Cannabis and a hint of coconut oil. Comes in a 2oz glass spray bottle.
Amber Calms the mind. Aids sleep. Promotes wound healing. Anti-inflammatory. Strengthens immune system. Improves circulation
Fig can be used in skin-barrier repair, meaning it helps not only in healing skin that is dry and damaged, but it helps lock in the moisture and nutrients skin needs to stay healthy.
Cannabis which is also an anti-inflammatory, and it also has a more powerful antioxidant than Vitamin C, E, or A. This antioxidant property of cannabis fights free radical damage and stimulates recovery from oxidative stress.

Applying cannabis topically induces the endocannabinoid system to regulate the various dermal processes for more radiant, moisturized skin! Cannabis protects the skin from free radical damage such as UV rays, environmental pollutants, and toxins that contribute to the visible signs of aging.
Inflammation impedes the skin's natural regenerative process. By reducing inflammation and free radical damage cannabis allows the skin to repair itself and correct signs of aging.
Customer Reviews
06/18/2021
Martha P.

United States
Game Changer!
I LOVE the facial mist! As soon as I started using it, I was able to fall asleep quicker. It's very refreshing and soothing at the end of a long day. ♥️
03/02/2021
Adina F.

United States
Lavish Lullaby
I've been using this before bed. It's lovely to lay in bed and breathe in the scent as I meditate. I will definitely be keeping this as part of my night time routine.