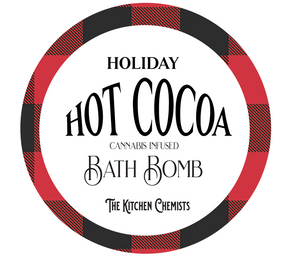 Our Holiday Hot Cocoa Bath Bomb smells amazing and has so many benefits.

Soaking in chocolate has stress relieving properties that level the stress hormones and improve your blood circulation. The anti-oxidants present help nourish your skin making it soft and supple. Dark chocolate also detoxifies your skin and let's it breathe by removing dead skin.

Milk leads to smooth skin, soothes irritations, improves skin appearance. It is rich in minerals and vitamin content, including vitamin A, B and D, calcium, lactic acid.

Add the benefits of cannabis which include anti-inflammatory properties, skin renewal and of course pain management.
We also include:
Epsom Slats & Turmeric for extra muscle/joint relief.
Coconut Oil to keep your skin soft and smooth.
Vanilla & Peppermint adds that nice warm holiday hot cocoa smell.