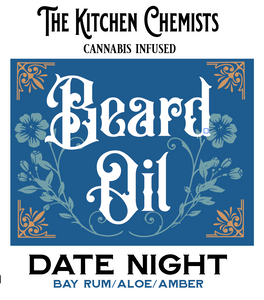 The Heritage Collection embraces the scents of the outdoors, richness and spice.

Our Date Night Beard Oil will condition your beard, minimize fly away hairs and condition your skin. Plus, it smells amazing. It is spicy and clean!

The protein-building properties of cannabis and its moisturizing power do wonders for beard hairs already grown outside the follicle. The oil makes the strand stronger with moisture and protein, making the hair less prone to breakage. You can reduce the breakage and grow a longer, fuller beard. It can also reduce redness, inflammation and itchiness.

Ingredients: Avocado Oil, Coconut Oil, Almond Oil, Vitamin E, Vegetable Glycerin, Black Castor, Aloe, Amber, Bay Rum & Cannabis Tincture.
Comes in a 1oz glass bottle.