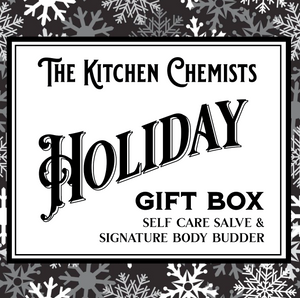 This box has two customer favorites!
So Fresh and So Clean Body Budder (4oz)
It smells amazing will leave your skin feeling soft and hydrated.
Ingredients: Shea Butter, Coconut Oil, Lavender, Grapefruit, Bergamot & Lemon.
Self Care Salve (1oz)
It helps alleviate muscle soreness, joint pain, arthritis, inflammation, headaches and menstrual cramps, and more! Also helps with skin conditions such as psoriasis, eczema, rashes and sunburns.

We include Turmeric oil to add to the benefits of pain relief.

We only make small batches at a time to ensure the product is the best it can be. Due to this, the color might vary, but the effects are always the same.

Essential Oils: Lavender, Cinnamon, Clove, Lemongrass, Rosemary