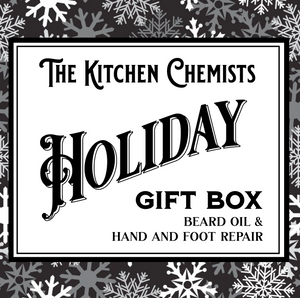 This box contains:.
Beard Oil
Our Beard Oil will condition your beard, minimize fly away hairs and condition your skin. Plus, they all smell amazing.

The protein-building properties of cannabis and its moisturizing power do wonders for beard hairs already grown outside the follicle. The oil makes the strand stronger with moisture and protein, making the hair less prone to breakage. You can reduce the breakage and grow a longer, fuller beard. It can also reduce redness, inflammation and itchiness.
Choose from:
Date Night - Bay Rum/Aloe/Amber
Woodland Escape - Cedar/Sandalwood/Vanilla
Fresh Start - Lavender/Sweet Orange/Vetiver
Rosemary Mint Hand & Foot Repair
Rosemary is full of anti-microbial, antiseptic, astringent, antioxidant, and tonic properties that soothe and treat dry skin.

Peppermint cools and calms as well as being a natural anti-inflammatory.
Eucalyptus is an antibacterial, anti-microbial, antiseptic, anti-inflammatory.
Of course the benefits of cannabis which include anti-inflammatory & skin renewal properties.
Coco Butter, Coconut Oil, Vitamin E, Castor Oil, Rosemary, Peppermint, Eucalyptus and Cannabis
Comes in a 2oz metal tin.