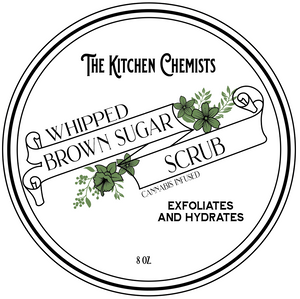 The Kitchen Chemists Whipped Body Scrub is ahhhhhmazing!

2 in 1 Whipped Sugar Scrub scrub exfoliates AND hydrates. Your skin will be soft and smooth not requiring additional moisturizer. Simply scoop some in your hand and scrub your body. Rinse and pat dry. Your skin will feel smooth, soft and brand new.

Made from all natural, Eco-friendly organic ingredients.

We only make small batches at a time to ensure the product is the best it can be.

Ingredients Include: Organic Brown Sugar & Organic Coconut Oil
A blend of all natural essential oils (Lavender, Sweet Orange, Vanilla)

Comes in a recyclable/reusable 8oz glass jar.