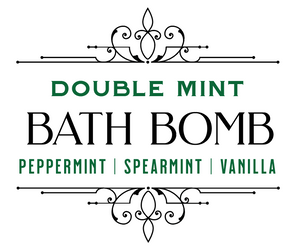 Sometimes you need a soak that awakens the senses and the soul. The Double Mint Bath Bomb is just the thing!

Spearmint reduces the appearance of wrinkles and skin imperfections, such as discoloration. It is believed to help reveal a new layer of skin, thus increasing skin's resilience and elasticity. With anti-bacterial properties, Spearmint is believed to make an ideal skin cleanser. By imparting a cooling sensation, Spearmint Oil can help to relieve itching associated with dryness and skin irritations.
Peppermint acts as an astringent that closes pores and tightens the skin. It's cooling and warming sensations make it an effective anesthetic that leaves the skin numb to pain and calms redness and inflammation. It can promote the safe and healthy renewal of skin, thus offering relief from skin irritations.

Add the benefits of cannabis which include anti-inflammatory properties, skin renewal and of course pain management.
We also include:
Epsom Slats & Turmeric for extra muscle/joint relief.
Coconut Oil to keep your skin soft and smooth.
Vanilla adds a nice smell.