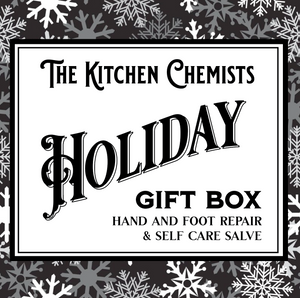 This box contains two of our favorites.
Self Care Salve Miracle Rub.
It helps alleviate muscle soreness, joint pain, arthritis, inflammation, headaches and menstrual cramps, and more! Also helps with skin conditions such as psoriasis, eczema, rashes and sunburns.

We only make small batches at a time to ensure the product is the best it can be. Due to this, the color might vary, but the effects are always the same.

Essential Oils: Lavender, Cinnamon, Clove, Lemongrass, Rosemary
Comes in a recyclable 2oz tin.
Rosemary Mint Hand & Foot Repair
Rosemary is full of anti-microbial, antiseptic, astringent, antioxidant, and tonic properties that soothe and treat dry skin.

Peppermint cools and calms as well as being a natural anti-inflammatory.
Eucalyptus is an antibacterial, anti-microbial, antiseptic, anti-inflammatory.
Of course the benefits of cannabis which include anti-inflammatory & skin renewal properties.
Coco Butter, Coconut Oil, Vitamin E, Castor Oil, Rosemary, Peppermint, Eucalyptus and Cannabis
Comes in a 2oz metal tin.