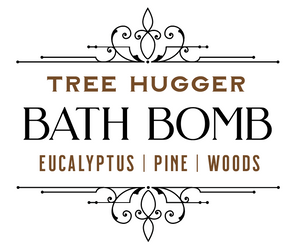 The Heritage Collection embraces the scents of the outdoors, richness and spice.

Our Tree Hugger bath bomb smells divine and takes you right to the outdoors with scents you love. It is mild yet familiar. Wrap yourself in Pine, Cut Wood, Clary Sage, Eucalyptus and Clove.

Pine Essential Oil is known to help soothe skin conditions characterized by itchiness, inflammation, and dryness, such as acne, eczema, and psoriasis. It is also known to effectively protect minor abrasions, such as cuts, scrapes, and bites, from developing infections. Its antioxidant properties make Pine Oil ideal for use in natural formulations intended to slow the appearance of signs of aging, including fine lines, wrinkles, sagging skin, and age spots. Furthermore, its circulation-stimulating property promotes a warming effect.
Clary Sage exhibits a cooling property that soothes skin afflicted with inflammation and it calms rashes.

Eucalyptus encourages deep breathing and a spa like feeling while soaking in the tub. It also has been shown to have strong antibacterial, antiviral, and anti-fungal properties aiding the skin and bronchial area.
Add the benefits of cannabis which include anti-inflammatory properties, skin renewal and of course pain management.
We also include:
Epsom Slats & Turmeric for extra muscle/joint relief.
Coconut Oil to keep your skin soft and smooth

Customer Reviews
03/02/2021
Brandon B.

United States
❤️
Love these bath bombs!!!!